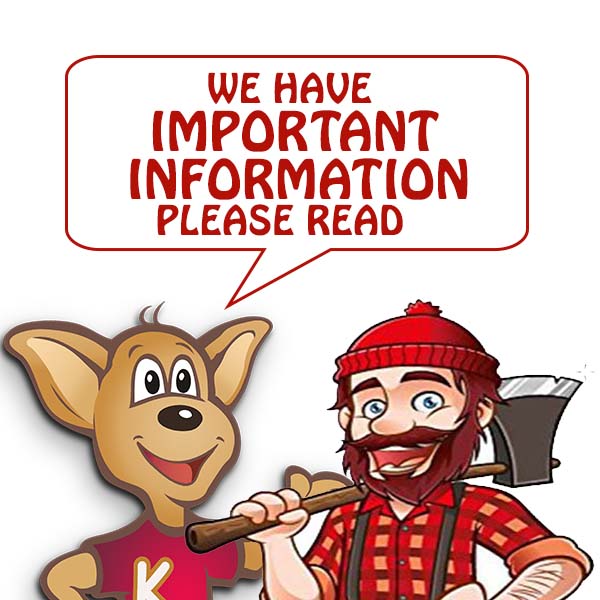 The CAVE'S Booking is now conveniently available online and required for all parties to maintain a safe capacity with social distancing and provide exclusive use by our party guests. OPEN PLAY admission has been temporarily suspended and we are following updates and making strides to responsibly restart so all patrons can return to enjoy our facility. Our current focus is maintaining PRIVATE PARTY BOOKINGS and we continue to maintain cleaning and upgraded sanitation to meet enhanced standards through newly available methods. THANK YOU for supporting us through COVID-19 and planning your events with US! We give all parties VIP treatment in planning and hope to allow future OPEN PLAY and walk in participation ASAP. Please book your event online and we will follow up to assist you with planning! -The Kangaroo Cave Events Team
THE AXE CAVE is OPEN for business! Did you know AXE Throwing is easily accomplished with social distance and new COVID-19 guidelines? We have been maintaining cleaning and sanitation guidelines to maintain operations and REQUIRE all reservations be made in advance through our online booking process. Walk In participation is currently restricted and ONLY reservation in advance are accepted. This allows us to maintain current capacity guidelines, plan for YOUR events, and keep AXES hitting the Bullseye. Please make your reservations online and Thank you for supporting the AXE cave! -The Axe Cave Event Team

PLEASE MAKE YOUR RESERVATION A MINIMUM OF 48 HRS IN ADVANCE OF YOUR EVENT TIME TO ENSURE AVAILABILITY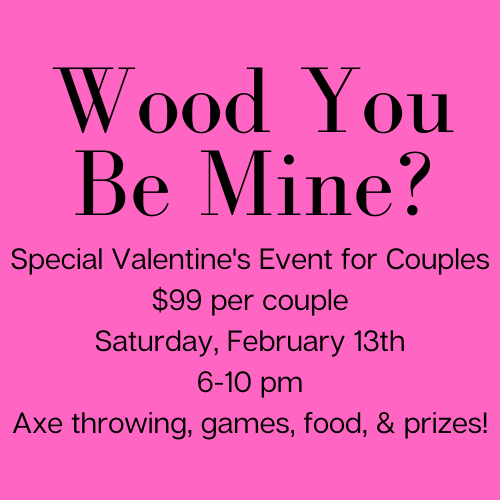 Wood You Be Mine ?
Do something different this year as you celebrate Valentine's Day. Grab your sweetie and join us for a special Axe Cave event, exclusively for couples! The evening will include axe throwing, food, games, and prizes. Cost is $99 per couple, and must be reserved in advance.

We will have several of our favorite games set up in a couples style competition for some added fun. Participation in these games will earn you tickets to win prizes. We are a BYOB facility, so bring your favorite drinks and celebrate your Valentine's Night out with us!


Reserve Today!
We ask that all guests maintain social distancing, wash hands and/ or use hand sanitizer when entering, and refrain from visiting when not feeling healthy! If you have cough, fever, or symptoms concerning to others please plan to join us another time. Face masks remain optional based on your personal decision and level of comfort. We will NOT question your status in wearing face coverings or not. We want everyone to make responsible decisions and enjoy the hospitality FUN and excitement of our facility!