The Axe Cave present BIlly's BADAXE Axe Throwing League
SUMMER SESSION
Our Summer session will begin on Thurs. July 9th.
And run for 8 weeks until Aug. 20th.

Each team will consist of 3 full-time axe throwers and 1 part-time sub, who may sub for any full-time axe thrower.

Each thrower will play and individual match each night. Matches will be determined by who wins two of three games.

Individual scores will be tallied and averaged for a team score each night.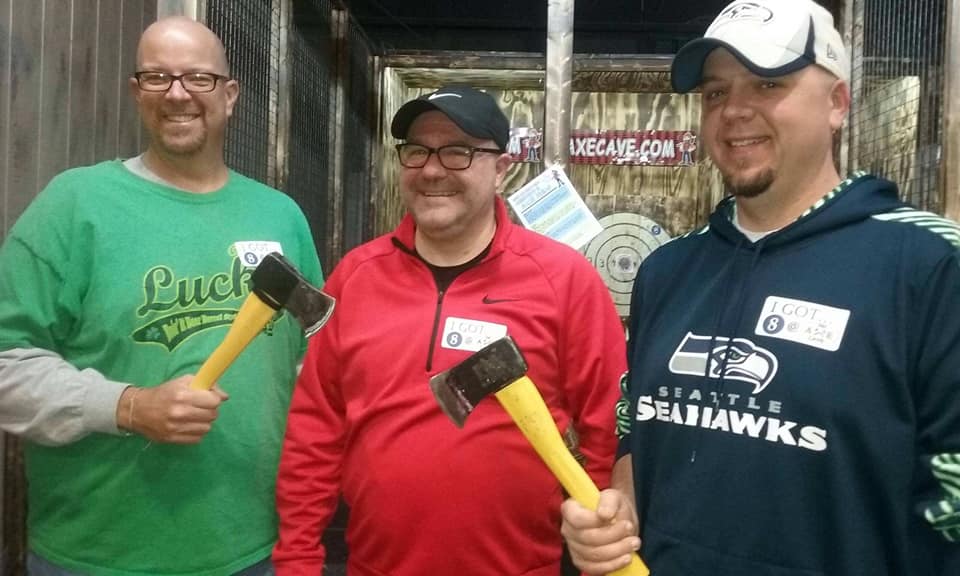 Billy's BadAxe axe Throwing League is a fun, B.Y.O.B. league. You don't need to be an axe throwing pro. Our axe coaches are happy to help you get started with tips & tricks so you WILL have fun 'sticking axes'!

Cost is $20 per thrower per night.

Please complete the form below and submit. Our Axe Cave manager will contact you with full details and team schedules.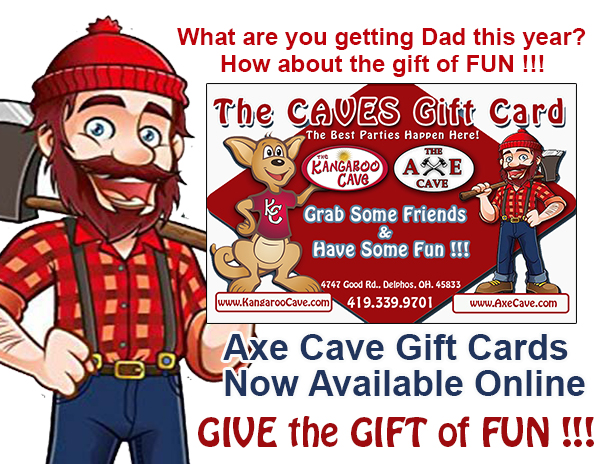 Axe Cave Gift Cards
We all appreciate a fun time. Surrounded by family & friends and we laugh and smile. If your looking for a unique gift for your father an Axe Cave Gift Card is it! Whether a family outing to The Caves or a group your dad's buddies out on a guys-night-out. We offer the area's most AXEciting activity close to home!!! GIVE THE GIFT OF FUN!!!



Buy Gift Card
Our Area's Premier Axe Throwing Venue
- The Axe Cave was created to provide a one-of-a-kind experience and atmosphere for the thrilling sport of axe throwing. Axecitement and good times come in second to only safety. Our axe throwing coaches are always available to give you the tips and tricks to be successful. With practice comes skill, so plan to join us frequently and possibly consider an axe throwing league or special events!
- Competitive Axe Throwing - Fun & Safe
Satisfying the drive for new experiences, axe throwing is a fun and safe activity for groups of all sizes. Letss face it, you've thought of what it would be like to throw an axe now you have the chance to bring your primal desires to life.
- Conveniently co-located with the Kangaroo Cave, The Axe Cave provides a atmosphere where you and your friends can throw axes with a variety of gameplay options amidst other game play options. We are creating unique interactive experiences like "Friday Night GameTime" for adults, "FAA- Friday Afternoon Axes" (Axe Time Teambuilding with flying axes from 3-5 p.m.), and "Rel-AXEing time" with axes and YOGA. Yep, you guessed it... we are not your typical place and want to develop a community of AXEciting people!
- Visit us after work, for DATE NIGHT, before you hit the bars or steer the PARTY BUS to the AXE CAVE for a new experience like nothing else. Our axe throwing lounge is BYOB and outside-food friendly so don't forget to grab a six-pack of your favorite craft brew and order a a pizza for your group at the AXE CAVE!

- The Axe Cave is an axe-throwing experience that is raising the bar for local entertainment, making sure you have an experience you will never forget.
Contact us at 419-339-9701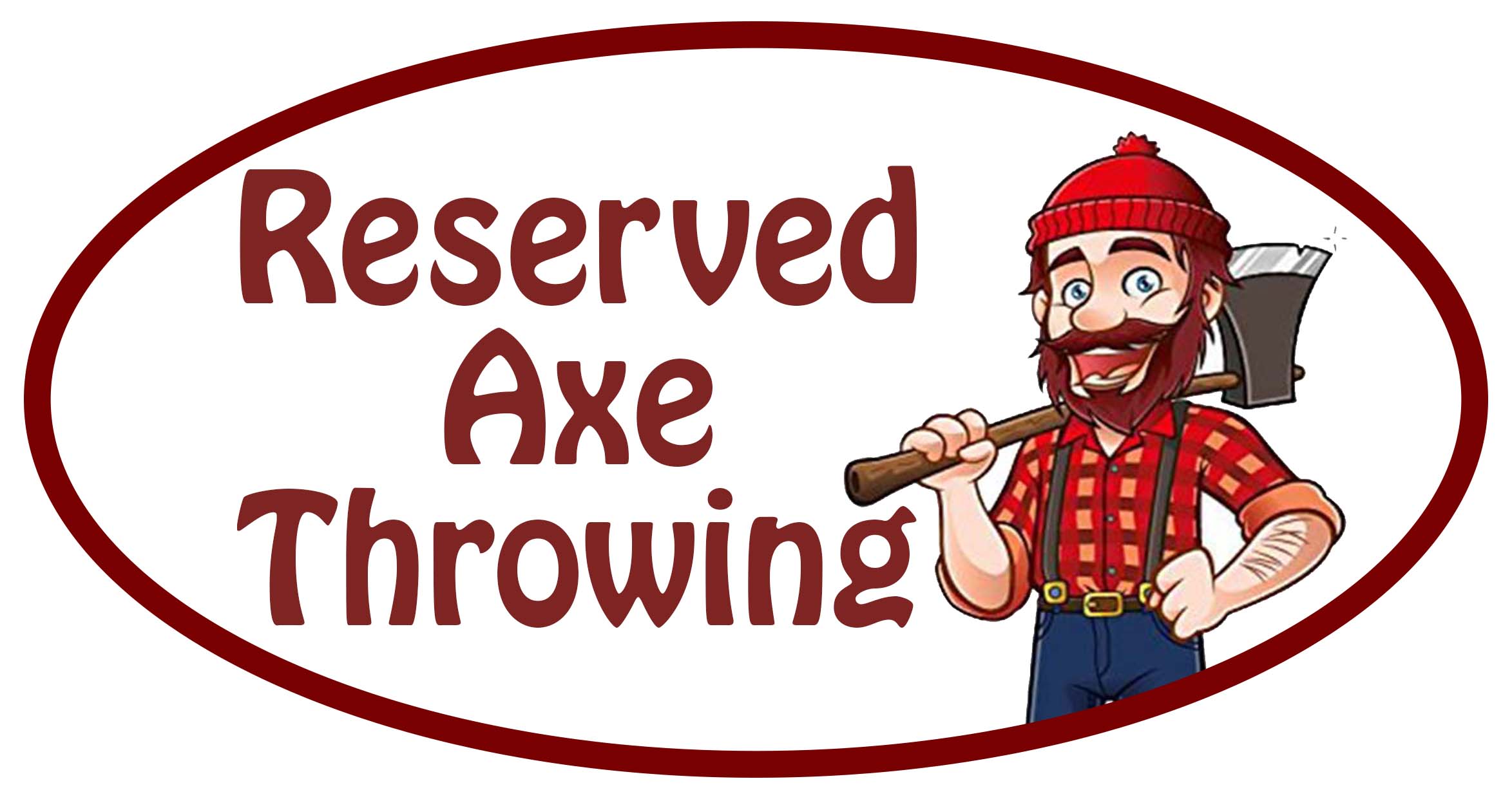 Reserve An
Axe Lane
We highly encourage online reservations for AXE lanes to ensure availability at time of scheduling.
A minimum of 4 persons are required for lane reservations. Reserve an exclusive AXE lane for two (2) hour time period with axe throwing safety and instruction provided,
Option for BYOB, Axe throwing competition with friends/ coworkers/ date night/ or cutting edge fun! Book a date night, birthday party, Bachelor/ Bachelorette party, teambuilding, or office party.

AXE CAVE OPEN HOURS
Fridays 3p-11p, Saturdays 11a-11p,
Sundays 1p-9p
COST: $30 per person
Reserve Axe Throwing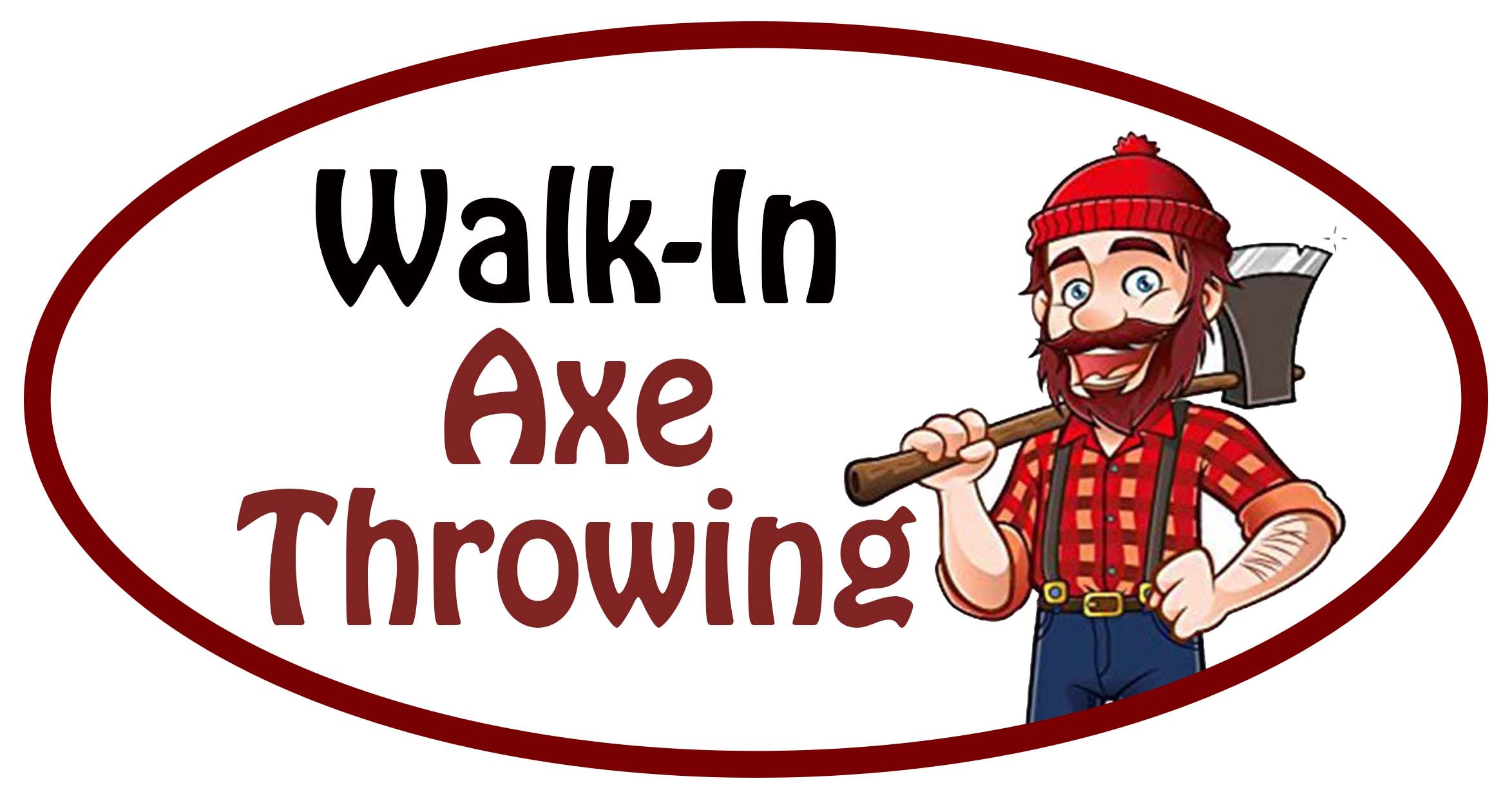 Walk-In Axe
Throwing
The Axe Cave maintains open throwing hours for walk in participation. Walk Ins are welcome sign in at registration desk. Open throwing availability is based on reserved lanes for the day.

Please contact the Axe cave at 419-339-9701
during operating hours for availability.

OPEN THROWING HOURS
Fridays 3p - 10p,
Saturdays 11a - 10p,
Sundays 1p - 8p

COST: $20 per person per hour
Onsite Booking Only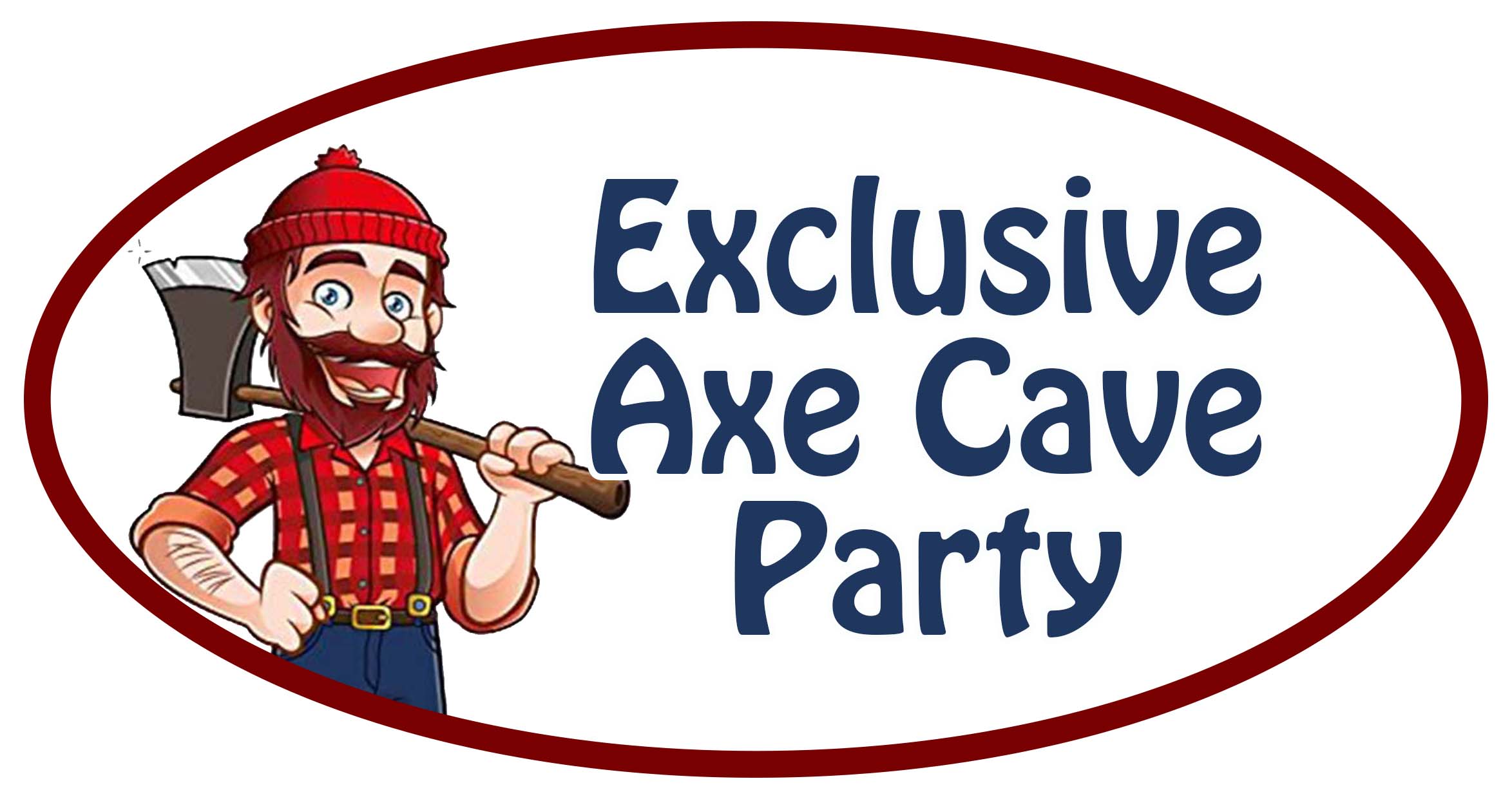 Exclusive Private
Axe Cave Party
Book an exclusive Axe party and secure
the entire AXE CAVE for your group.

Includes all six (6) Axe Lanes
(max 36 throwers/ Max Seating for 50),
Two (2) hours of axe throwing
Exclusive Party Space and Seating
Three (3) hour party access.
Axe Coach to provide Axe safety instruction,
tips & hints for your success.
BYOB beverage & Food options

Schedule Anytime or Day
CALL FOR AVAILABILITY
COST: $975.00
Limited Availability
Exclusive Axe Party
Mobile Axe Throwing Trailer

The latest trending, highly engaging activity of axe throwing combines concentration, fine motor skills and daring. We've included LED lighting and an on-board stereo system This might be the perfect activity to add to any event.
The best part is we can now bring this axe-tremely popular & axe-citing activity to you! Just AXE us about it.


Mobile Axe Throwing Trailer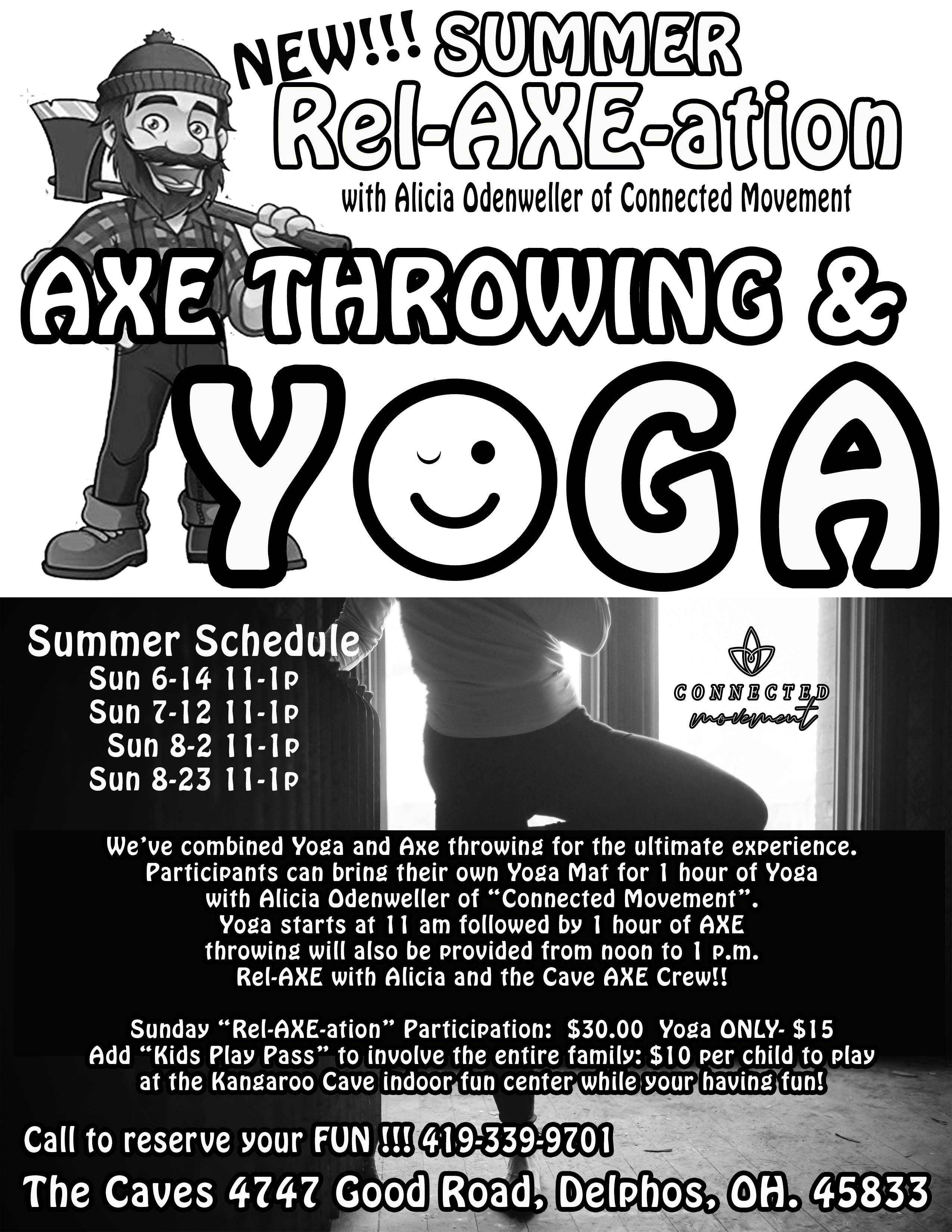 Rel-AXE-ation
We have combined Yoga and Axe throwing for the ultimate experience.
Participants can bring their own Yoga Mat for 1 hour of Yoga
with Alicia Odenweller of Connected Movement
Yoga starts at 11 am followed by 1 hour of AXE
throwing will also be provided from noon to 1 p.m.
Rel-AXE with Alicia and the Cave AXE Crew!!

Sunday Rel-AXE-ationÃÃÝ Participation: $30.00 Yoga ONLY- $15
Add Kids Play PassÃÃÝ to involve the entire family: $10 per child to play
at the Kangaroo Cave indoor fun center while your having fun!
Have Fun Click Here !
Adult Game Nights
Every Friday and Saturday Night we put away some of the kids stuff and set up more adult oriented attractions. Us big kids can still bounce in a bounce house or go down a big slide, even run through an obstacle course if we want. But, we add GIANT games like; beer pong, jenga, connect 4 and more. You can game in the arcade or on the table games, how about some carnival games, grab a snack at the snack bar or order pizza, wings, bread sticks, even a party salad. Remember we are BYOB friendly (we check ID's). Add a little AXE Throwing and this might be the perfect game night for family, friends, even date night!
Adult Game Nights