The Axe Cave present BIlly's BADAXE Axe Throwing League
SUMMER SESSION
Our Summer session will begin on Thurs. July 9th.
And run for 8 weeks until Aug. 20th.

Each team will consist of 3 full-time axe throwers and 1 part-time sub, who may sub for any full-time axe thrower.

Each thrower will play and individual match each night. Matches will be determined by who wins two of three games.

Individual scores will be tallied and averaged for a team score each night.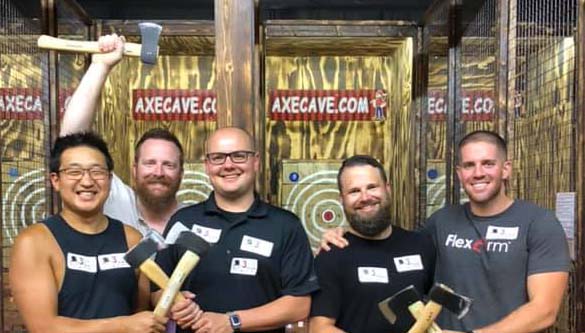 Billy's BadAxe axe Throwing League is a fun, B.Y.O.B. league. You don't need to be an axe throwing pro. Our axe coaches are happy to help you get started with tips & tricks so you WILL have fun 'sticking axes'!

Cost is $20 per thrower per night for the 8 week summer league. Throwers can register to score as an individual player or recruit a team of up to 3.

Please complete the form below and submit. Our Axe Cave manager will contact you with full details and team schedules.